March 2023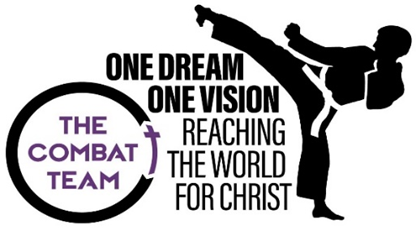 We Are Better Together!!!!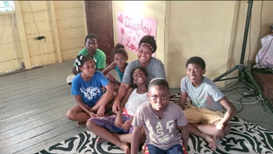 On the 3 and 23rd of February classes were held in Belize city where a total of 8 students were in attendance. They went through blocks, kicks, and strikes trying to master their techniques. We also had a strong talk on being disciplined and motivated in the things of God. They are being encouraged to invite out a friend as they can be an excellent part of the karate recruitment. We also have 3 birthdays for students in this month alone also me. May the Lord continue to bless and keep us as we do His bidding.
Yours in Christ.
Frederick S Gordon Jr
Lead Instructor Belize City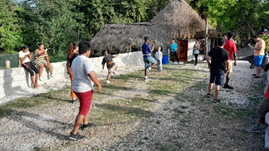 Greetings from Northern Belize,
I just want to start this quick letter off with a huge thank you to all of you involved with Combat Karate. We continue to see the benefits of working with the young people here in Belize. Last week we had our by-monthly strip test and tested the kids not only on their karate techniques but also on their memory verses over the last four months. I am happy to report that most of these kids are retaining what they have learned. You see, most of these young people come from broken homes with very little structure, if any at all. They are starving for attention and yes structure for their lives. It has been such a blessing to see these young boys and girls grow and have an opportunity to shine. I just wanted to say thank you for all your help and allowing us to help make a difference in Belize with your help.
God Bless, Pastor Tony Yuresko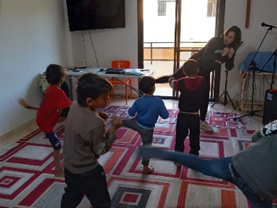 Tripoli Lebanon
We are still continuing teaching the Lebanese gypsies kids every Tuesday and Thursday in the center and there's some new youth guys from the same camp asked us if they can learn karate in the center and we said yes and hopefully they're coming this Tuesday afternoon to start the first class with them.
Thank you and please pray for us.
Combat Team Lebanon.
Yousef Alwani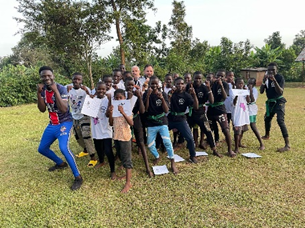 How it all started in Uganda
I wanted to share a bit more in how incredibly God is working and has been working for a long time to bring the Uganda Combat Team ministry into fruition. In approximately 2009, while serving in Sudan with another ministry, I met a man named Bob Reis who leads ministries in North Sudan, Kenya, and Uganda. In 2018 Bob called me out of the blue inviting myself and the Combat Team to join him in serving in Uganda at his ministry site called God's Garden. He wanted us to not only join him in sharing the gospel, but also wanted us to prayerfully consider launching a Combat Team ministry school at God's Garden. Upon arrival we forged a relationship with Dabito. We were moved hearing his incredible testimony as a Sudanese refugee and his passion for pointing young men and women to Christ. At that time we launched a school at a very small scale with the plan to regularly train via video calls and a return trip scheduled. Wes and I purchased tickets and were set to return to Uganda with Bob in March of 2020. Unfortunately, due to the onset of COVID and then issues with Boaz's health, our return was postponed for a lengthy amount of time.
At the time, we were disappointed in the delay, however, looking back it is interesting to see God's hand at work. Between 2018 and now, with rare exceptions, Dabito and I have met weekly via video chat for training, discipleship, mentoring, and prayer. We both have looked forward to this time together with me ministering to him and him with me. Even in the toughest of times when Boaz was within hospital walls, we would meet for prayer while I was in a hallway or waiting room. This was in part due to my commitment to Dabito and what God is doing in Uganda, but also due to Dabito staying focused on God's calling even in our absence.
Dabito has recognized and fully embraced his divine calling to not only be a part of Combat Team Ministry but also to use the model of planting Combat Team schools all over his host country of Uganda and even in neighboring countries to share the gospel and make disciples. In our physical absence, Dabito has relied on the Lord's direction rather than ours and we are seeing momentum like we have never seen before. With us traveling less, we have even diverted some of our funding to Dabito and he has been able to complete mission trips all over Uganda! In fact when Wes and I joined him, the three of us traced some of his paths to see through the Lord's divine leading and provision a total of 8 Combat Team schools that have been developed since we first met in 2018! God is so good!!!
With all that said, we want to thank you for your partnership in all that the Lord is doing through the Combat Team all over the world!! God is using you, your prayers, and generosity to do BIG THINGS for His Kingdom!
If you would like to give to the Combat Team, please Send to: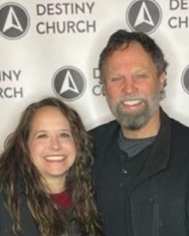 Combat Team Ministry
P.O. Box 529
Marshfield, MO 65706
or go
online at: https://donorbox.org/combat-team-ministries
We are better together! Thank you for your support and prayers! We love you!